Type of event
Classroom course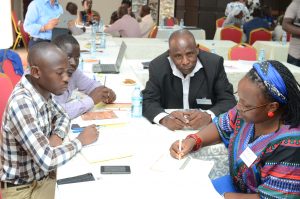 Change the Game Academy is organising a classroom course on Local Fundraising in Uganda in 2019.
Local Fundraising is a course in which you learn how to raise funds within your own community, among the middle class and companies. During the course you will develop a fundraising plan for your own organisation and practice the communication skills you require to implement the plan. 
The Local fundraising course is suitable for small and medium-sized social organisations in Uganda.

Licensed local Uganda trainers from our partner organisation Uganda National NGO Forum conduct the course. After the course, participants will have a thorough practical plan which they can implement. For 6 months following the course, participants have access to advise and e-coaching from Uganda National NGO Forum.
Practical information
Date:  22-27 April 2019
Location: Jinja, Uganda
Price:  2.500 Euros for two persons from one organisation, including meals and hotel. (If you have been a partner of Wilde Ganzen since January 1st 2012 (meaning that Wilde Ganzen has approved a project proposal after that date), you pay a discounted price. (Payment will be made to Uganda National NGO Forum). 
About the Uganda National NGO Forum
The Uganda National NGO Forum (UNNGOF) is an independent and inclusive national platform for NGOs in Uganda. Its primary constituency and owners are NGOs in their diversity and configurations. Its mission is to provide a sharing and reflection platform for NGOs to influence governance and development processes in Uganda, and enhance the operating environment of CSOs. UNNGOF also focuses on building the capacities of civil society organisations in Uganda so that the CSO sector can deliver its core mandate.
Your partner organisation can register for the Local fundraising course by sending an email to Sarah Pacutho: s.pacutho@ngoforum.or.ug
PS: In the second half of 2019, UNNGOF will organize a similar course on Mobilising Support (lobby&advocacy). We will inform you accordingly.