Location
Dar es salaam, Tanzania
Type of event
Classroom course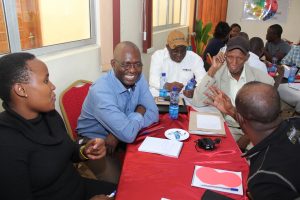 Local Fundraising is a course in which you learn how to mobilise resources within your own community through various sources e.g. local businesses, middle-class donors, local companies and public authorities and many more. During the course, you will develop a fundraising plan for your own organisation and practice the communication skills you require to implement the plan.
The Local Fundraising course is suitable for small and medium-sized social organisations in Tanzania.
Licensed local trainers from the Foundation for Civil Society (FCS), conduct the course. FCS is an independent Tanzanian non-profit organization that provides grants and capacity building services to civil society organizations (CSOs) to enhance their effectiveness in enabling engagement of citizens in development processes. It has a track record of supporting organisations in Tanzania through their capacity development program.
For 6 months following the course, participants have access to advice and e-coaching from FCS.
Organisations willing to participate can register for the Local Fundraising course by sending an email to molotu@fcstrust.co.tz.
Download the brochure here.