Location
Phnom Penh, Cambodia
Type of event
Classroom course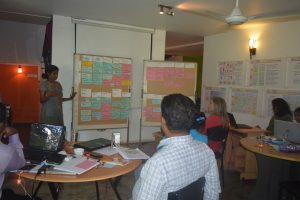 Mobilising Support (MS) is a course in which you learn to claim specific rights from local authorities or institutes. During the course you will make a plan in which you identify your opponents and your allies and plan your activities.
The course will enable learners to claim their economic and social rights, with relevant parties (domestic elites, companies, government, and so on). They learn how to apply for correct policy implementation at the local level and to cooperate with local duty bearers on an issue that is of direct importance to them.
Licensed local trainers from The Advocacy and Policy Institute (API) will conduct the training. API is on a mission to serve long term democratic and social development needs through the empowerment of people to interact with their government to protect their rights and provide for their needs. Since 2003, API is the leading advocacy capacity building institution in Cambodia. 
After the course, participants will have a thorough practical plan which they can implement. For 6 months following the course, participants have access to advice and e-coaching from API.
Dates
Leaders Meeting: 13-14 June 2019
Mobilising Support Content Training: 8-12 July 2019
Skills Training: 3-5 September 2019
Evaluation & Learning: 22-23 October 2019
Price: Total cost:Euro 1680 equivalent 1937 USD. (Wilde Ganzen partners get a discounted price)
Organisations willing to participate can register for the Local Fundraising course by sending an email to vanpannit@apiinstitute.org.    
Find application form here: Mobilising-Support-application-form_API