Type of event
Classroom course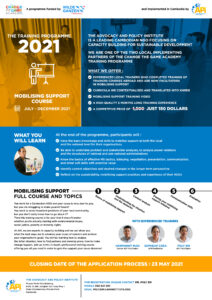 MOBILISING SUPPORT TRAINING COURSE
You work for a Cambodian NGO and your cause is very dear to you, but you are struggling to find hearing? You want to solve important problems of your local community, but you don't really know how to go about it? Then this training course is for you! And it does not matter whether you are actually dealing with environmental issues, social justice, poverty or minority rights.
At API, we are experts in capacity building, and we can show you what the best ways are to advance your issues of concern and achieve your organisation's goals. You will be learning how to analyse the initial situation, how to find partners and develop plans, how to make change happen. Join us in this in-depth, professional training course offering you all you need in order to gain the support your cause deserves!
Change the Game Academy
The Advocacy and Policy Institute (API) is a leading Cambodian NGO serving the long-term democratic and social development of the country by empowering citizens. One of our traditional focus areas is capacity building for advocacy and policy change. In this project, together with our colleagues from the Cooperation Committee for Cambodia (CCC), we are one of the national partners of the Wilde Ganzen Foundation (Netherlands) in implementing a capacity building programme called "Change the Game Academy". This programme is directed at local civil society organisations (CSOs), it focuses on local fundraising and mobilising support, and it is a global programme, taking place in many countries in Asia and Africa. It provides technical support for community-based organisations, as well as for NGOs, in an effort to make them better equipped for facing the challenges of the current global changes in the development sector.
The Mobilising Support Training
The Mobilising Support (MS) training course is meant for local organisations who face challenges in pushing for their goals, and especially holding the government accountable. The course will guide the participants through the whole process and build their confidence to engage in mobilising support for positive, sustainable, and systemic change. This is not a one-time training programme. It is rather intended to build capacity through long term e-learning, the use of various toolkits, individual and collective coaching.
The programme consists of four modules:
Module 1: One-day orientation workshop for organisation leaders.
Module 2: Five-day training.
Module 3: Three-day training with study visit.
Module 4: Two-day training, including a reflection on the mobilising support action plan.
In addition to these modules, there will be two coaching sessions taking place after the second and after the third training, respectively.
Benefits of the Training
At the end of the course participants will:
Have the basic knowledge and skills to mobilising support at both the local and the national level for their organisations.
Be able to undertake problem and stakeholder analyses, to analyse power relations and the structures of national and sub-national administrations.
Know the basics of effective MS tactics, lobbying, negotiation, presentation, communication, and other soft skills with practical value.
Identify current objectives and desired changes in the longer-term perspective.
Reflect on the sustainability, mobilising support practices and experience of their NGOs.
Eligibility Criteria
CSOs and NGOs interested in applying must meet the following criteria:
Be willing to complete the 4 training modules and the two coaching sessions in the framework of this capacity development process.
Be able and willing to pay a commitment fee of 10% of total cost (equalling 150 USD).
Commit to developing an MS action plan while going through the specific course modules.
Be willing to operationalise this action plan.
Commit to designating two representatives who will fully participate in each course module.
Partners of the Wilde Ganzen Foundation will have priority in the selection process.
Payment and Venue
Payment instructions and venue details will be provided to all successful applicants by API.
Training Schedule
Notifications will be given to the selected organisations. The training schedule is the following:
| | | |
| --- | --- | --- |
| NO | Training and coaching | Date |
| 1 | One-day training | 4 June 2021 |
| 2 | Five-day training | 12-16 July 2021 |
| 3 | First coaching | during the 8 weeks following the second training |
| 4 | Three-day training | 19-21 October 2021 |
| 5 | Second coaching | during the 6 weeks following the third training |
| 6 | Two-day training | 8-9 December 2021 |
Language: Khmer/English
Closing Date for Applications: 23 May 2021
Application form: Download