Location
Dar es salaam, Tanzania
Type of event
Classroom course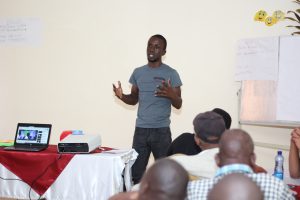 Mobilising Support (MS) is a course in which you learn to claim specific rights from local authorities or institutes. During the course, you will make a plan in which you identify your opponents and your allies and plan your activities.
The course enables learners to claim their economic and social rights, with relevant parties (domestic elites, companies, government, and so on). They learn how to apply for correct policy implementation at the local level and to cooperate with local duty bearers on an issue that is of direct importance to them.
Licensed local trainers from the Foundation for Civil Society (FCS), conduct the course. FCS is an independent Tanzanian non-profit organization that provides grants and capacity building services to civil society organizations (CSOs) to enhance their effectiveness in enabling engagement of citizens in development processes. It has a track record of supporting organisations in Tanzania through their capacity development program.
 For 6 months following the course, participants have access to advice and e-coaching from FCS.
Organisations willing to participate in the next available class can register for the Mobilising Support course by sending an email to molotu@fcstrust.co.tz.
Download the brochure here.
Download the application form here.