Date
First week of December 2021
Type of event
Online course
We are happy to inform you that Smile Foundation is organizing a Virtual Classroom Course on MS for organisations in India tentatively in the 1st week of December 2021. This virtual classroom course trajectory includes the following: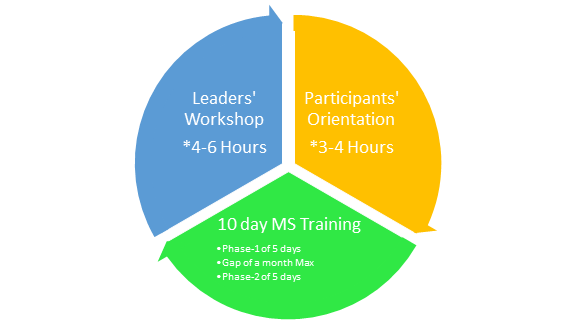 What to look for:
This Virtual Classroom Course on Mobilizing Support is meant for the organisational leadership to understand the importance and usefulness of Networking and Resource Mobilization in today's scenario and in the days to come, as an NGO/CBO/CSO. The result of this course will be in terms of adapting ways of leveraging support from governments, and other relevant actors to act for your cause.
One-day Leadership Workshop
Leadership will be briefed on the objectives, outcomes, structure and content of the course.
Enabling them in finalizing the participants for the training
One-day Participant's Orientation
The participants will be introduced to SMILE and CtGA.
Setting expectations and scope of the entire course
10 days' MS Training, will enable the participants to assess their learning level on the subject, lay down their expectations, share their expertise with others and learn the following topics:
Why and What is MS?
Problem identification and solutions
Stakeholders Analysis and Mobilising Allies
Understanding Policy & decision making processes
Tactics for Mobilizing Support
Principles and Steps for MS
Messages/ Audiences / Role of Language
Framing the Mobilizing Support Message
Presenting the MS Message
Negotiation skills
presentations/Sharing of plans
Convincing oral presentations
Monitoring and Evaluation for MS
MS Testimonial with relevant activities (One of the MS Alumni organization will present their success story)
Using media, and social media
MS promotion
Presentation of MS for your organization
The Final day of the training also has the component of Evaluation for reflecting on the training experience. CtGA will also devise a Coaching Plan for the participants in the ensuing 6 months' time, under the mentoring of the same set of resource team, to fine tune and execute their MS plans and events. After a period of 2 – 3 months participants will be invited to come together for Sharing and Reflecting on the MS activity plan and implementation.
Course Registration:
Ideally, each organization should have two participants enrolled for this course, for its effective implementation.
The total course fee is about ₹30,000/-, per participant. 
Wilde Ganzen partners can get a discount. 
To confirm your organisation's participation in the virtual classroom course on MS, kindly fill-in your details in the online form by clicking the following link:
Expression of Interest (EoI): https://forms.gle/nJhQDVYSxU7N41t2A
Course Schedule:
Place

On ZOOM

1 day Leaders workshop

First Week of Dec'21

1 day Participant Orientation     

Phase-1 of 5 days virtual training on MS (including Evaluation)

6 Months Coaching starts

From Jan – Jun 2022

1 month gap after phase-1

Dec 2021

Phase-2 of 5 days virtual training on MS (including Evaluation)

In Jan 2022
Prerequisites:
Since this is a virtual course, the prerequisites for this entire course are;
Strong Internet Network
Desktop Computer/ Laptop with Speakers & Mic/ Headphones
A place with minimum disturbance
Note: Using mobile phone to attend the course, is strictly prohibited.
******************
For further clarification, please write on this mail in response or contact on 8750980633 (Call and WhatsApp). Kindly fill-up the formats and share with undersigned.