Supporting CSOs to be Resilient Amidst [and Post] Covid-19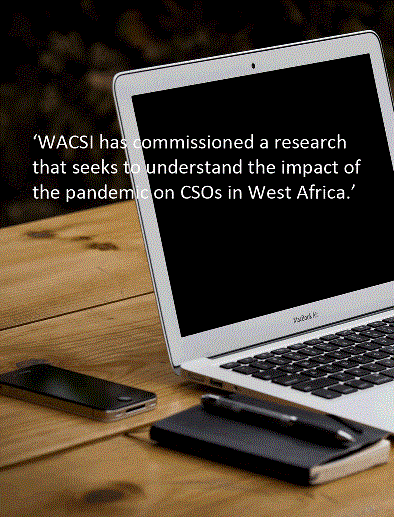 By Jimm Chick Fomunjong and Leandre Banon
Accra, Ghana
Despite the ease of some of the restrictions introduced in March by most West Africa governments to stem the spread of the coronavirus disease (COVID-19), major restrictions including public gatherings, physical distancing, freedom of movement, which limit civil society's operations in the region (social and civic services) are still in place.
The situation is more alarming with the rapidly increasing number of cases in Africa after the continent hit 1.2 million cases at the end of August. Earlier, the World Health Organisation (WHO)  had warned that the coronavirus pandemic was accelerating in Africa and stressed that it took 98 days for Africa to reach the first 100,000 cases, and only 18 days to move to 200,000 cases and now had recorded over 1 million cases.
The pandemic continues to pose major challenges to citizens' rights. Civil society in West Africa may not fully participate in the national political discourses with critical elections looming in Cote d'Ivoire, Burkina Faso, Ghana, Niger, Guinea and Liberia.
COVID-19 is taking a toll on grassroots organisation's operational engagement – the way they organise to carry on with their activities; and their programmatic engagements – how they reach out to beneficiaries and beneficiary communities to deliver on their mission and organisational objectives.
Civil society is being challenged to change its ways of working or risk losing its relevance, legitimacy, and effectiveness. Organisations are being forced to quickly adapt to the "new normal". While, some organisations have shut down completely, others are working from home as a result of the threat posed by the virus to their staff.  
Despite these, COVID-19 presents an opportunity for civil society organisations (CSOs) to experiment new forms of work patterns, of leadership, and to increase organisational resilience in preparation for more future disruptions. As such, the West Africa Civil Society Institute (WACSI) has designed collaborative programmes geared towards ensuring that civil society is resilient during and post COVID-19.
Curation of learning and documentation of COVID-19 responses for civil society
The diverse responses by different CSOs to COVID-19 mirrors diverse circumstances; some of which may be known. Therefore, it has become essential for WACSI– civil society knowledge hub in West Africa– to explore and document how, in the face of the COVID-19 pandemic, CSOs in West African countries are adapting and responding to the COVID-19 situation.
With the support of Wilde Ganzen Foundation, WACSI has commissioned research that seeks to understand the impact of the pandemic on CSOs in six West African countries (i.e. Cameroon, Ghana, Liberia, Nigeria, Sierra Leone and The Gambia). The research will be done and published by early October 2020.
More specifically, the research seeks to examine the impact of the COVID-19 pandemic on (1) CSOs' operations and programmes, (2) funding, domestic resource mobilisation and sustainability of CSOs, (3) donor-CSO relations and (4) CSOs' role and relationship with stakeholders.
The research will provide evidence-based information and understanding on the impact of COVID-19 on CSOs' operations in West Africa.
Also, cognisant of the critical roles of civil society, particularly where efforts involve significant changes to social practices and norms, STAR-Ghana Foundation has partnered with selected organisations from Ghana including WACSI through the "Ghana Covid-19 Response Project" (CRP) to complement and deepen planned and ongoing efforts to fight the Covid-19 pandemic.
The CRP is promoting a coordinated action of CSOs in Ghana towards COVID-19 prevention, management, and mitigation. A key aspect of this process is a deliberate process of documenting and integrating learning during the implementation of the project, being led by WACSI.
WACSI documents monthly situational reports on CSOs' responses to COVID-19 in Ghana and West Africa and facilitates learning and reflection among civil society actors. It would lead to a repository of information that future generations of civil society in Ghana and other countries can learn from to ensure effective responses to crisis.
 Technology Support to Civil Society in West Africa
The Corona Virus has forced many organisations to adopt a work from home policy. But many smaller non-governmental organisations (NGOs) are struggling in this transition. The struggle originates partly from the lack of adequate practical knowledge in terms of the most suitable tools to adapt in these times. Also, there is a skills deficit on how to use the suite of tools in cases where some of these NGOs have access to these technological tools.
However, a more critical challenge is evident as several NGOs in the region cannot afford available technological resources that can aide their work, especially amidst COVID-19.
In response to that, as Techsoup partners in West Africa, WACSI initiated a series of free webinars to support organisations that strive to stand out in this challenging period in making changes and influencing communities through their daily actions and operations, while leveraging technology resources and knowledge to push the boundaries imposed by the circumstances. Each webinar attracted averagely 50 organisations from across West Africa.
Moreover, WACSI has partnered with Wilde Ganzen Foundation to strengthen the technological capacities of selected organisations to become more resilient and responsive in the midst of COVID-19. The support includes:
Free technological assessment of participating organisations;
Training in office productivity and online collaboration tools to improve organisational efficiency and performance;
Microsoft 365 business premium – organisation would be able to generate customised email addresses for staff, includes multiple collaboration tools and boost productivity;
Bitdefender Internet Security - to detect, neutralise and eradicate computer malware as well as data protection; and
Cloud System Configuration – to back-up and restore data. It also facilitates collaboration in a highly convenient and secure manner across staff regardless of their geography location.
Promote collaboration to Reclaim Civic Space in COVID-19 era
An upsurge of severe restrictive measures have been enforced in some countries such as Cote d'Ivoire, Burkina Faso, Ghana, and Nigeria. While they might be necessary to "flatten the curve", their implementation has left many with the fear that civic space would suffer further, fundamental freedoms (especially freedom of speech, association, and movement) gravely infringed, and human rights defenders attacked and harassed. For a region with history of brutalities and excesses by state machinery like the military and police, the raft of these restrictive measures, could potentially further shrink civic space and impede on democratic values.
In response to that, WACSI initiated a monthly West Africa Policy Dialogue Series (WACPoDiS) to coordinate and engender regular civil society discussions on the different impacts of COVID-19 on civil society's development effectiveness. Scheduled every third Wednesday of each month (beginning in May 2020), the regional WACPoDiS also explores the intersection between COVID-19 with other thematic and crosscutting issues such as civic operations, civic space, gender equality, democratic and political governance, political economy, human rights, resource mobilisation, digital technology among other.
The Corona Virus pandemic is having a severe toll on civil society in West Africa. Despite the adverse effects posed by COVID-19 to civil society, actors within the sector are increasingly being innovative and devising alternative ways of staying relevant. WACSI is committed to supporting CSOs to stay relevant and engaged and emerge as victors in a post-pandemic era.  
 Jimm Chick and Leandre work for our partner organisation, WACSI in Ghana, and are both trainers of the Change the Game Academy.