COMING SOON! WEBINAR ON DOMESTIC RESOURCE MOBILISATION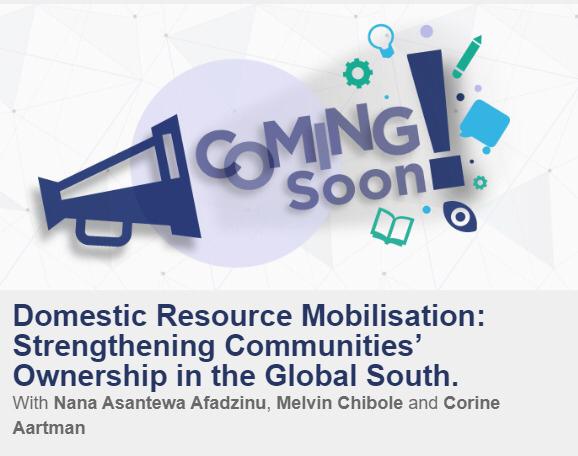 Wednesday, January 29, 2020, 8:00 am EST
About this webinar
As civil society organizations in the global South are confronted with shrinking civic space and reduced access to foreign funding, there is increasing attention to the importance of domestic resource mobilization. Raising funds locally not only enhances financial sustainability, but it also strengthens the ownership and agency of organizations and helps shift power from north to south. Moreover, domestic resource mobilization has been found to increase civic participation and demands for social accountability in the global South. In studies carried out, it is established that organisations that consolidate resources locally have better relationships with the communities they serve and a stronger voice towards government. Building local constituencies helps change vertical forms of accountability into horizontal ones between government, civil society and communities while enhancing movement building predominantly among disadvantaged communities in the global South.
A fundamental question to then ask is; Does shifting power in the development sector work, not just to the global South, but also as a paradigm shift by international development aid to promote inclusivity in decision making and to level power dynamics? Can it act as a precursor to promote sustainable social change? And are international organisations ready to let go in order to empower these organisations?
In this webinar, we delve deeper into resourcing for civil society and how this contributes to social accountability. We start by taking a systemic look and then bring it down to practice with tips, learned lessons and several success stories of domestic resource mobilization cases in West and East Africa and how they strengthen communities organisations and influence social accountability.
About our guest moderator and speakers
Nana Asantewa Afadzinu
Executive Director, West Africa Civil Society Institute (WACSI)
Nana has worked with the civil society sector for the past 22 years and is a passionate advocate for sustainable development in Africa with the effective contribution of a strong civil society. She is a lawyer by profession and has worked on areas of governance, human rights, philanthropy and capacity development with national, international, continental and regional organisations in Africa. They include the African Commission on Human and Peoples' Rights, National Coalition on Domestic Violence Legislation in Ghana, Women's Initiative for Self-empowerment (WISE), the African Society of International Law, the Open Society Initiative for West Africa (OSIWA) and IBIS West Africa. She is also an adjunct faculty member for the Kofi Annan International Peacekeeping Training Centre (KAIPTC) on courses related to governance, human rights, peace and security and gender.
She is an alumna of the University of Ghana, Faculty of Law; the Ghana School of Law; the Columbia University Human Rights Advocates Program and the New York University School of Law.

Melvin Chibole
Director-Governance, Learning & Communication, Kenya Community Development Foundation (KCDF)
Melvin Chibole has worked in the non-profit sector for the last 14 years holding different positions. Melvin is adept in different development philosophies including Human Rights Based Approach (HRBA) as well as a community philanthropy lens in advancing the voice and agency of communities in taking charge of their development destiny. Melvin is charged with development, oversight and coordination of all governance (policy& philanthropy), knowledge and learning as well as communication pillars of the Kenya Community Development Foundation (KCDF).
Prior to joining KCDF, Melvin worked with ActionAid International Kenya doubling as the Senior Communications Officer and the Country Programmes Youth Coordinator. He has also worked for United Nations Environmental in the Communication and Public Information Office.
Melvin holds a Bachelor of Arts in Communication from Daystar University and is a final year Master of Arts in Project Planning and Management student at the University of Nairobi.



Corine Aartman
Wilde Ganzen Programme Manager
Corine Aartman has been working with social change organisations for over three decades. As a fundraising manager, she innovated fundraising at UNICEF, Bilance/Cordaid and a range of other organisations. She worked as an independent consultant and trainer with women's and children's rights and environmental organisations in Europe and across the globe, focusing on building people's capacities to make social change organisations more autonomous and sustainable. In 2014 she joined Wilde Ganzen Foundation to develop Change the Game Academy, an innovative blended-learning program for community philanthropy and advocacy. It offers a range of e-courses, classroom training and coaching in 12 countries.
Corine co-founded the Dutch Fundraisers Association. She has trained and presented extensively around the world.


How to connect to the webinar:
Visit https://gpsaknowledge.org/events/kp-webinardomestic-resource-mobilisation/ for further instructions on how to join the webinar.