Localisation
Trincomalee, Sri Lanka
Type d'évènement
Cours en classe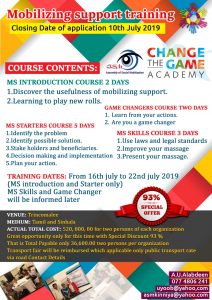 Mobilising Support (MS) is a course in which you learn to claim specific rights from local authorities or institutes. During the course you will make a plan in which you identify your opponents and your allies and plan your activities.
The course will enable learners to claim their economic and social rights, with relevant parties (domestic elites, companies, government, and so on). They learn how to apply for correct policy implementation at the local level and to cooperate with local duty bearers on an issue that is of direct importance to them.
Licensed local trainers from ASM will conduct the course. ASM is a Non-Governmental organisation creating a centre of attention among different stake holders at district, regional and national levels in Sri Lanka by lobbying for people friendly policies and establishment of rural networks for grass root actions. It is also strengthening the community based organizations for sustainability through implementing training on Local Fundraising and Mobilising Support.

After the course, participants will have a thorough practical plan which they can implement. For 6 months following the course, participants have access to advice and e-coaching from ASM.
Price: Each participant caters for a total cost of Euro 1830 equivalent to SLR 366,000/=. Wilde Ganzen partners get a discount. The cost includes meals and hotel accommodation. 
Organisations willing to participate can register for the Local Fundraising course by sending an email to asmkinniya@yahoo.com or uyoob@yahoo.com.

Find application form here: Mobilising Support Training_Application Form
Find the information flier here: Mobilising Support Training flier