Digital Transformation: Shifting CtGA Training Online and Adapting to the Pandemic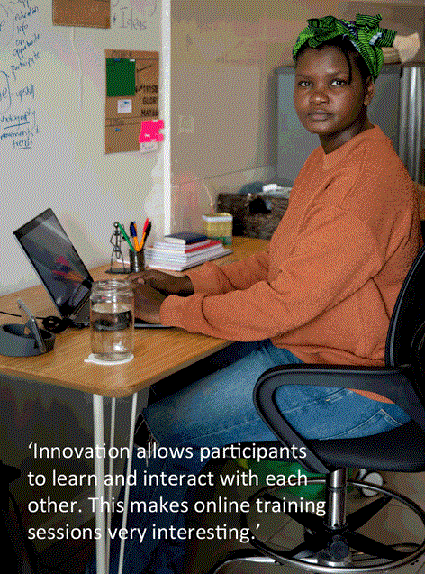 By Martha Olotu
Dar es Salaam, Tanzania
Just like the situation was in many countries across the world, the month of March brought with it what looked like a bleak future for many civil society organisations (CSOs) in Tanzania. The COVID-19 pandemic struck and immediately 'normal' was disrupted and organizations were left thinking of how to adapt fast.
Training for instance, came to a halt and an idea of e-learning was mooted to counter it. However, there was the big question of whether our organisation has the capacity to use the internet in conducting the training. Will the technology work in our favor? Would we be able to be online for a significant amount of time without interruptions?  These were some of the worries that cast doubt on many of us at the Foundation for Civil Society (FCS') and the idea we had hatched to rely on e-learning during the time of the pandemic.
Online Training
In the second week of May however, we managed to run two Change the Game Academy trainings via e-learning. Training on local fundraising was held from the 7th to 18th of May 2020 and attended by over 30 participants while the advocacy for change/mobilising support training was held between the 6th and 22nd of May 2020 and attended by over 30 participants as well. In both courses, participants included Wilde Ganzen partners, FCS grantees and staff.
This signified triumph over the pandemic disruption on training. Despite challenges with internet connectivity in many places in Tanzania, targeted participants attended and participated fully in both trainings. It was a novel experience for many of the participants but at the tail-end they had managed to learn various techniques including projecting training slides on screen, playing video and audio files, small group discussions and polling using the Zoom application.
The e-learning sessions were a good platform for new trainers to gain experience from seasoned trainers. Participants showed an eagerness to put what they had learnt to practice in order to continue being catalysts of change in the communities where they work.
Experiences and Lessons Learnt
How was this experience for FCS? First we had to train facilitators on how to use Zoom to deliver online sessions. Besides, participants were trained on how to use the platform before they could attend the online sessions.
Lessons we learned:
If one method fails, be flexible and try another. This was useful especially in instances when breakout sessions seemed ineffective due to time constraints and facilitators switched to plenary.  
When using technology such as video- conferencing, it is essential to carefully present to participants only what they can understand and absorb at a particular time. As a trainer, selection of a few topics and issues is helpful when conducting online training.
Innovation allows participants to learn and interact with each other and this makes training sessions more interesting and participatory.
It also becomes clear that when conducting online training, there is a need to have more than one facilitator in order to ensure continuity in case of internet interruptions.
Facilitators need to have more than one reliable source of internet in case of unexpected slowdowns.
Remember that video-conferencing platforms are cost effective and can benefit civil society organisations and many more people should adapt to this digital transformation. I can say that the pandemic has enabled facilitators to discover the other side of their potential and realize other innovating forms of delivering training and this should continue even after the pandemic has passed.
Other COVID-19 Interventions by FCS
In addition to the training, FCS allocated approximately USD 600,000 to boost grassroots CSOs' response on the COVID- 19 pandemic from April to July, 2020.  The funds are benefiting various vulnerable and marginalized groups, including people with disabilities, women, children, the elderly, pastoralists, hunter-gatherer communities as well as small entrepreneurs. Areas of support include effective and inclusive communication around the pandemic, improving access to health care and potential escalating risks of gender based violence and child abuse resulting from the spread of the pandemic.
FCS also joined the global leaders of Giving Tuesday to celebrate Giving Tuesday by mobilizing monetary support from the community which were used to procure Personal Protective Equipment for medical doctors through the Medical Association of Tanzania.
In a bid to ensure inclusivity in Tanzania's COVID-19 response, FCS donated 10,000 masks and 2,500 bottles of sanitizers worth approximately USD 9,000 to the Federation of Disabled People's Organizations (SHIVYAWATA) in May. FCS produced 1,000 copies of coronavirus awareness books in braille which were then distributed to 25 regions through Tanzania League of the Blind. Additionally, FCS designed posters on information on safety from COVID-19 and distributed them to people with albinism in 24 regions. The posters were in a bigger font size than conventional posters to allow greater visibility.
FCS produces a biweekly bulletin named "HABARI JAMII", Swahili for "NEWS FROM THE COMMUNITY." This bulletin communicates the work of civil society across Tanzania and it can be accessed from the FCS WEBSITE – www.thefoundation-tz.org
###
Martha Olotu works for our partner organisation, The Foundation for Civil Society in Tanzania in the programmes department and is a trainer of trainers for the Change the Game Academy Programme in the country.