Fundraising is more than proposal writing!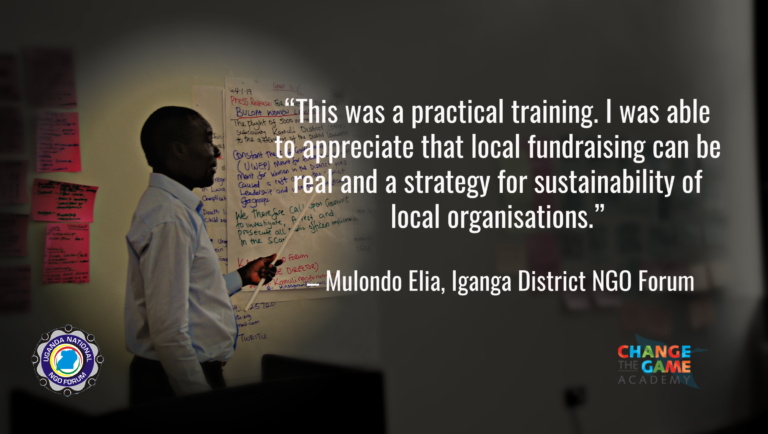 As pressure on civil society increases worldwide, and its space to operate as an independent development actor is diminishing in many places, funding from the more conventional donors seems to be more of a challenge to secure.
It is arguable that survival for Civil Society Organisations is becoming less about responding to donor calls and proposal writing with international donors in mind, and maybe more about mobilising support and raising funds locally. Deliberate actions towards finding alternate funding sources and other types of support are now more than ever, integral to the operations of all CSOs.
In line with Uganda NGO Forum's (UNNGOF's) partnership with Wilde Ganzen, UNNGOF held another training of the Change the Game Academy in late January of 2019 for 30 participants from organisations partnered with under the Civic Engagement Alliance with ICCO and selected members of UNNGOF membership. Held in Jinja, this classroom training sought to enhance the capacity of NGOs to solicit funding from non-conventional sources and continue operations despite the recent challenges with external funding. Specifically, to share the concept and skills of local fundraising; and for participants to share knowledge and experiences on fundraising challenges and opportunities in the sector.
Participants at the training were taken through among other things, the steps of Local fundraising; sources of income; types of donors; the role of social media in fundraising; how to make an organizational leaflet, a fundraising plan and organize a fundraising event. The training also features follow ups with participants after the training in form of coaching in the event that the organisation goes ahead to develop fundraising plans or otherwise.
Participants hailed the training as a practical one and appreciated that the course brings home knowledge that they took for granted in regards to fundraising for their organisations. They noted that the skills imparted can be used not only in finding resources but also in their day to day activities at work. UNNGOF is scheduled to hold one training on Local Fundraising and another on Mobilising Support in 2019.
Article contribution by Sarah Pacutho from UNNGOF